A BFM® collar is a contoured stainless steel spigot. Combined with a snap-in, tool-free BFM® connector, the BFM® fitting system replaces the traditional hose and clamp connection.
This revolutionary flexible connector system eliminates the problems associated with traditional hose clamp systems by utilizing two welded BFM® collars and a snap-in sleeve that delivers a completely sealed connection.
What is the difference between a BFM® and a hose clamp?
Hose clamps attach tubing and hoses to fittings to prevent flow leakage. They require tools to fasten and can be tedious to install and changeout. Usual problems associated with traditional hose clamps are product buildup, leaks, dusty environment and downtime associated with changeouts.
BFM® collars and snap-in connectors eliminate all these issues - they are 100% sealed and require no tools.
BFM® collars & connectors are transforming manufacturing across the globe.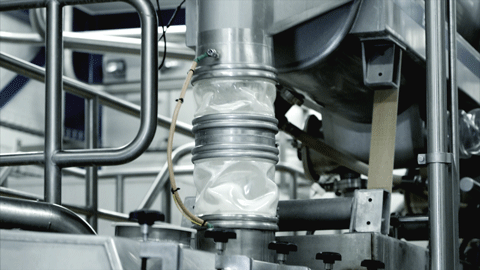 100% sealed - no dust, no leaks or cross contamination.

ATEX - IBExU tested as approved for use in all dust explosion hazardous area.

Standardized connector sizes mean you keep fewer spares and reorders are a breeze.

No tools means easy installation & fast change outs.

No product build-up means better hygiene.

Seals tighter under pressure.
What are BFM® collars made out of?
BFM® collars are manufactured out of 304 and 316 stainless steel.  C22 Hastelloy is available for special applications in a limited size range.
How big is a BFM® collar and connector?
BFM® collars are available in a range of standard sizes from 4 inch nominal (100 mm) up to 65 inch nominal (1650 mm) in 2 inch (50 mm) increments that can accommodate virtually any process environment.
Most BFM® connectors are available in lengths starting at 3 inch (80mm) up to 19 feet 8 inch (6 meters) going up in 2 inch (50mm) increments.
(Note: for larger diameters from 700mm (27.5") upwards, certain length restrictions apply).
Can I get a rectangular BFM® collar?
BFM® collars & connectors are round but we can design and fabricate square to round transitions to the BFM® collar.
What is a BFM® spigot?
BFM® spigot is a BFM® collar, sometimes also called a BFM® flange.
The BFM® spigot design incorporates a slight taper allowing the unit to be trimmed to an exact fit for any existing pipe or installation.
A BFM® spigot has a 52 mm (2 in) tail that can be cut back to suit existing pipework.
BFM® collar or BFM® Spigot for Tool Release installations require a 6 mm (15/64") hole in the top rim of the spigot. Pre-drilled TR spigots are available for purchase with your BFM® TR Connectors.
Jacob flanges are available that allow the BFM® collars to be installed or removed in seconds without tools. We can provide 150# flanges for more heavy duty applications, or ferrule ends for sanitary applications.
For more details, view the spigot drawing.
Need to customize your BFM® spigot? We can help.
With free in-house engineering, custom fabrication abilities, and large inventory, we make it easy to design and retrofit BFM® fitting connector systems in your facility.